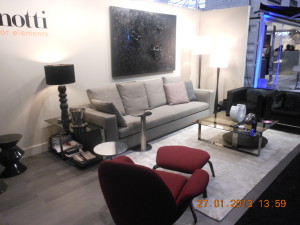 If you visited the interior design show held in Toronto Canada, you know that there were many great designs and designers there who inspired more than a lot of people. One of the brands that were seen a lot over at the exhibition was Minotti, which of course has its own name and place in the furniture industry.
The company showcased a lot of its work in the exhibition and among them was the lovely living room full with lamps, couches and even a lounging or relax chair. If you saw the show, you know that the combination that they selected for the overall setup was great and eye catching.
The brand used a theme of gray and black where the couch and carpet were light grey in color while the other furniture such as lamps and chairs etc were black. On the contrary, to give the room a little bit of oomph, they added the red lounging chair which fit perfectly with the setting.