If you don't want a stereotypical blue room for your little boy, this is the right place for you. Whether you're looking for cool bedroom ideas that aren't the stereotypical red-and-cars theme, or just looking for a fresh new way to look at a bedroom, here are some ideas you can put into use.
Usually family members' ideas of boy bedroom ideas are to paint it blue or red, stick a sports-car bed into there, as well as a toybox, a desk, a lamp, and other things a room needs. While it's not wrong, so many people have done it that it's starting to look a bit cliched. To avoid the old cliches, don't stick with blue and red. Try other colors like green, yellow, or even pink, if you want. (Note: Pink is a color. It is not male or female in any way. Your little boy could like pink and it will not make him any less of a man). Be creative with how you use color and paint. Experiment with prints and stencils. You can paint stripes, or stamp a fun pattern onto the walls. You can even paint a mural on the wall. Try an ocean or mountain scene, or look up some references in magazines or books and get creative.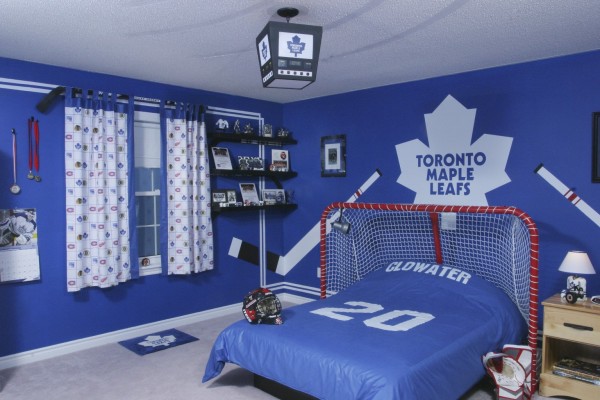 Floating shelves are a great alternative to regular shelves if they take up too much space. They can be used to hold anything from books to picture frames to odds and ends. Of course, you could always go for a regular shelf. Try upgrading it with some designs if it looks too plain. Paint it a fun color, add some stenciled designs to the side, or paint either a stylized or realistic mural on the side. You can even cut out shapes in the boards of the shelf for some fancy openwork.
A desk and chair is optimal for any bedroom. Choose a lamp with a color that fits the rest of the room to keep the table area from looking too office-like. If you want, you can install a hanging lamp for more desk space. Of course you'll need a table that matches the room's theme, but you can also throw in some beanbags around the room for a more comfortable alternative to the chair. For the bed, try a printed duvet with white or patterned pillows.
Now all that's left is to fill in the gaps with decorations. Fortunately, this isn't your job; it's your boy's job to decorate the room in any way he wants. He may display some toy figures, hang some posters, and lay out his books in his own way. Allow him to decorate and grow into the room.